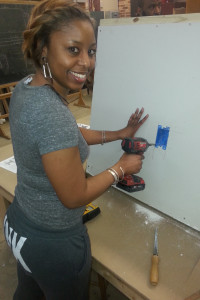 HRRC's "hands-on" workshops are available to residents of all communities, regardless of income. Most are held in our Teaching Center at 2520 Noble Road, two blocks north of Monticello in Cleveland Heights.
Workshop attendees pay a modest materials fee: $10 for resident of Cleveland Heights and Shaker Heights, and $15 for non-residents. (Scholarships are available to Cleveland Heights residents with low incomes.) Fees may be paid by cash, check, or credit card.
Reservations are required. To reserve a spot in a workshop, call (216) 381-6100, ext. 16, or email workshops@hrrc-ch.org. Please include a daytime phone number so that we can contact you to finalize your reservation. First-time participants should also complete the online application for the Project Repair program.
Please let us know about repairs completed through Project Repair by completing a reporting form.
Gift cards for repair workshops can be a great present for new homeowners, home repair enthusiasts, and anyone who, due to life changes, is responsible for the maintenance needs of a home. Print out our order form and send it to HRRC with your payment.
JULY
Patching Plaster and Drywall
(Class full; wait list only)
Monday, July 13th, 7 – 9 pm
Instructor: Malia Lewis, landlord & property manager
Participants will:
Be able to patch holes in drywall

Understand the "anatomy" of plaster walls and how common problems develop

Know how to repair cracks in plaster walls and ceilings

Know how to repair sagging plaster (using plaster washers and/or adhesive)

Be able to patch holes where lath is still present

Be able to patch holes where lath is missing
Door Locks & Deadbolts
Monday, July 20th, 7 – 9 pm
Instructor: Ken Rubin, National Sentry Security Systems
Participants will:
Understand the difference between traditional door locks and deadbolt locks

Know what features to look for when choosing a new door lock or deadbolt

Be able to install a traditional door lock on an interior door

Be able to install a deadbolt lock on an exterior door

Be able to make simple repairs to interior door locks
Repairing and Replacing Porch Flooring
Monday, July 27th, 7 – 9 pm
Instructor: John Sobotincic, woodworker/handyman
Participants will:
Understand how to locate floorboards that match existing boards

Know how to measure, cut, and install tongue-and-groove porch flooring

Know how to remove and replace damaged board(s) on part of a porch floor

Know how to deal with porch columns, railing posts, and other architectural features that can complicate flooring replacement
AUGUST
Cleaning Out Drains
Monday, August 3rd, 7 – 9 pm
Instructor: Ernie Fisco, Advanced Plumbing & Drain

Participants will:
Know the location and function of sanitary sewers and storm sewers

Know how to use an electric sewer snake to clear clogged sewer lines

Understand the function of a clean out and how it is constructed and installed

Understand alternatives to a complete dig-down if a drain line must be replaced
Introduction to Electricity
Monday, August 17th, 7 – 9 pm
Instructor: Dennis Meltzer, retired electrician
Participants will:
Understand how electricity is generated & transmitted to the home

Understand how electricity is transmitted mast→panel→ throughout house

Understand wiring types (knob & tube, Romex, armored cable, etc.) and how wire is sized

Understand the purpose of fuses and circuit breakers and how they are matched to wire sizes

Understand safety precautions for working with electricity

Understand the purpose of the grounding pathway and how it is achieved

Understand common wiring problems/violations: illegal splices, lack of junction boxes, ungrounded three-prong outlets, etc.

Know how to make an electrical map of one's home

Understand how to compute the load on a circuit
Repairing Switches & Outlets
Monday, August 24th, 7 – 9 pm
Instructor: Dennis Meltzer, retired electrician
Participants will:
Understand how single-pole switches & common outlets are wired into a circuit (wiring diagram)

Recognize other types of switches and outlets sometimes found in older homes

Be able to use a tester to determine the hot wire

Be able to strip a wire and connect it to a switch or outlet (wire looped around screws, straight stabbed into back, etc.)

Be able to replace an existing single-pole switch

Be able to replace an existing common outlet

Be able to mount a junction box and install a new single-pole switch in it

Be able to mount a junction box and install a new common outlet in it

Be able to diagnose and correct common causes of non-working lights, single-pole switches, and common outlets
Three-Way Switches & GFCI Outlets
Monday, August 31st, 7 – 9 pm
Instructor: Dennis Meltzer, retired electrician
Participants will:
Understand the protection provided by GFCIs and AFCIs

Be able to replace a common outlet with a GFCI outlet

Understand how three-way switches are wired into a circuit (wiring diagram)

Be able to install a three-way switch system to control a light

Be able to diagnose and correct common causes of non-working three-way switch systems
SEPTEMBER
Good-Bye A/C; Hello Furnace
Monday, September 14th, 7 – 9 pm
Instructor: To be determined
Participants will:
Understand the importance of seasonal maintenance of central air conditioning and heating and what's involved

Understand what maintenance can be done by homeowners on heating and cooling systems and what should be left to a professional

Know when a heating system should be replaced
Caulking & Weatherization
Monday, September 21st, 7 – 9 pm
Instructor: To be determined
Participants will:
Identify which products to use to seal various kinds of cracks & gaps

Know how to use caulk gun and other tools to apply sealants

Know how to install various types of weatherstripping on windows and doors
Insulating Your Home
Monday, September 28th, 7 – 9 pm
Instructor: To be determined
Participants will:
Understand the advantages and disadvantages of various types of insulation

Know how to install various types of insulation, baffles, and other materials
Check back for future workshops…