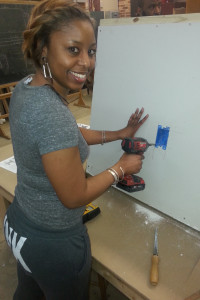 HRRC's "hands-on" workshops are available to residents of all communities, regardless of income. Most are held in our Teaching Center at 2520 Noble Road, two blocks north of Monticello in Cleveland Heights.
Workshop attendees pay a modest materials fee: $10 for resident of Cleveland Heights and Shaker Heights, and $15 for non-residents. (Scholarships are available to Cleveland Heights residents with low incomes.) Fees may be paid by cash, check, or credit card.
Reservations are required. To reserve a spot in a workshop, call (216) 381-6100, ext. 16, or email workshops@hrrc-ch.org. Please include a daytime phone number so that we can contact you to finalize your reservation. First-time participants should also complete the online application for the Project Repair program.
Please let us know about repairs completed through Project Repair by completing a reporting form.
Gift cards for repair workshops can be a great present for new homeowners, home repair enthusiasts, and anyone who, due to life changes, is responsible for the maintenance needs of a home. Print out our order form and send it to HRRC with your payment.
APRIL
DIY Installation of a Home Security System
Monday, April 6th, 7 – 9 pm
Instructor: Dennis Meltzer, retired electrician & security expert
We'll show you how to add a security system to your home using wireless sensors, and discuss options for connecting and monitoring.
Hanging Drywall
Monday, April 13th, 7 – 9 pm
Instructor: Christine Titas, general contractor & landlord
Drywall can be used to finish new walls or to repair damaged plaster walls. At this class, you'll learn to measure, cut, install and finish drywall, ready for paint or wallpaper.
Patching Plaster & Drywall
Monday, April 20th, 7 – 9 pm
Instructor: Malia Lewis, landlord & property manager
At this class, you'll learn to make various kinds of repairs to plaster and drywall: using repair kits for small holes; patching larger areas with drywall; building up existing plaster with greycoat, joint compound, or other products; and repairing damaged walls with other techniques.
Installing Kitchen Cabinets
Monday, April 27th, 7 – 9 pm
Instructor: Bill Audrick, Renew Contracting
We'll show you how to install upper and lower cabinets in a kitchen or bath, ensuring that they are level, plumb, and securely attached to the wood framing.
MAY
Flat Roof Replacement
Monday, May 4th, 7 – 9 pm
Instructor: Chris Kamis, Absolute Roofing
You'll learn to replace a "flat" roof over a porch or shed-type garage using self-adhering ("peel & stick") modified bitumen roofing, a much easier product to install on a do-self basis.
Gutters & Downspouts
Monday, May 11th, 7 – 9 pm
Instructor: Chris Kamis, Absolute Roofing
Learn how to connect and hang gutters at the proper pitch. We'll discuss available materials, metal gauges, sectional vs. seamless gutters, and how to replace rotted fascia boards and rafter ends.
Tuckpointing
Tuesday, May 19th, 7 – 9 pm
Instructor: Briane Vagner, Vagner Masonry
Tuckpointing (replacing deteriorated or missing mortar between bricks) is an easy do-self repair in most situations. We'll demonstrate various types of joints, teach you how to match the color and appearance of the surrounding mortar, and show you techniques that will result in a neat and attractive job.
JUNE
Repairing Wood Window Frames
Monday, June 1st, 7 – 9 pm
Instructor: Ben Faller, HRRC
You don't need to replace your original windows just because the frames are damaged. We'll show you products and techniques that can be used to repair rotten or damaged wood – and preserve the historic character of your home.
Sash Cord Repair
Monday, June 8th, 7 – 9 pm
Instructor: Art Engleman, Western Window Service
If your double-hung window no longer goes up and down, the sash cords may be broken. Learn how to replace those ropes, so your window will function once again.
Window Glazing & Replacement
Monday, June 15th, 7 – 9 pm
Instructor: Lenny Goldfarb, Cedar Center Hardware
Learn how to replace deteriorated glazing (the putty that seals the glass to the wood sash), to prepare for exterior painting or to replace a broken window pane.
Concrete Replacement
Monday, June 22nd, 7 – 9 pm
Instructor: Bill Knop, Rehab Specialist, City of Cleveland Heights
If you need to replace a small area of concrete (such as a sidewalk block), come and learn how to build the form, mix the concrete, and finish the surface.
Screen Repair
Monday, June 29th, 7 – 9 pm
Instructor: Andy Gathy, Heights Hardware
You'll learn how to repair small holes and tears in screening and how to replace an entire screen, whether the frame is wood or metal.
Check back for future workshops…