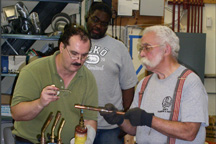 HRRC's "hands-on" workshops are available to residents of all communities, regardless of income. Most are held in our Teaching Center at 2520 Noble Road, two blocks north of Monticello in Cleveland Heights.
Workshop attendees pay a modest materials fee: $10 for resident of Cleveland Heights and Shaker Heights, and $15 for non-residents. (Scholarships are available to Cleveland Heights residents with low incomes.) Fees may be paid by cash or check.
Reservations are required. To reserve a spot in a workshop, call (216) 381-6100, ext. 16, or email workshops@hrrc-ch.org. Please include a daytime phone number so that we can contact you to finalize your reservation. First-time participants should also complete the online application for the Project Repair program.
Please let us know about repairs completed through Project Repair by completing a reporting form.
Gift cards for repair workshops can be a great present for new homeowners, home repair enthusiasts, and anyone who, due to life changes, is responsible for the maintenance needs of a home. Print out our order form and send it to HRRC with your payment.
OCTOBER
Getting Your Trees & Shrubs Ready for Winter
Monday, October 6th, 7 – 9 pm
Instructor: Mark Derrickson, Ardmore Tree Service
Learn the proper way to prune, mulch and protect your trees and plantings from snow and ice damage.
Ice Dams & Gutter Cables
Tuesday, October 14th, 7 – 9 pm
Instructor: Chris Kamis, Absolute Roofing
If ice builds up along your roof line each winter, electric heating cables may help solve the problem. You'll learn how these devices operate and how to install them.
Understanding and Maintaining Your Radiators
Monday, October 20th, 7 – 9 pm
Instructor: Stu Unsdorfer, Central Heating
Come and learn about radiators — steam or hot water, one-pipe or two-pipe systems, traditional or baseboard. We'll talk about the reasons your radiators may not be functioning as well as they should, and what you can do to improve their performance.
Drywall Installation
Monday, October 27th, 7 – 9 pm
Instructor: Carl Goldstein, local real estate investor
Drywall can be used to finish new walls or to repair damaged plaster walls. At this class, you'll learn to measure, cut, install and finish drywall, ready for paint or wallpaper.
NOVEMBER
Interior Painting
Monday, November 3rd, 7 – 9 pm
Instructor: Stan Zabrocki, Prism Painting
We'll talk about how to select paint and how to prepare the wall. Then, you'll have a chance to try out a variety of tools and techniques that can enhance the quality of your work.
Hardwood Floor Refinishing
Monday, November 10th, 7 – 9 pm
Instructor: Tom Reznik, Reznik Floor Services
You'll practice sanding a floor with a flat-plate sander and learn how to complete the process with stain and polyurethane.
Laminate Flooring
Monday, November 17th, 7 – 9 pm
Instructor: Ari Schabo & Mike Castello, Calvetta Brothers Floor Show
We'll show you the tricks for putting down laminate flooring to get a good quality, long-lasting installation.
Ceramic Tile
Tuesday, November 25th, 7 – 9 pm
Instructor: Vince Horvath, Artistic Tile & Marble
Learn how to lay out and space ceramic tiles on a floor, wall, counter, or backsplash; how to cut pieces for edges or around fixtures; and how to maintain and repair a tiled surface.
DECEMBER
Choosing Quality Tools
Monday, December 1st, 7 – 9 pm
Instructor: John Turner, retired contractor
Whether you're planning to give a new tool as a holiday gift or requesting one from Santa, come and learn how to ensure that the model you choose will give you quality and longevity.
Check back for future workshops…