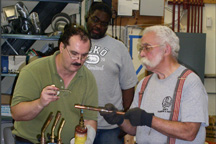 HRRC's "hands-on" workshops are available to residents of all communities, regardless of income. Most are held in our Teaching Center at 2520 Noble Road, two blocks north of Monticello in Cleveland Heights.
Workshop attendees pay a modest materials fee: $10 for Cleveland Heights residents and $15 for non-residents. (Scholarships are available to Cleveland Heights residents with low incomes.) Fees may be paid by cash or check.
Reservations are required. To reserve a spot in a workshop, call (216) 381-6100, ext. 16, or email workshops@hrrc-ch.org. Please include a daytime phone number so that we can contact you to finalize your reservation. First-time participants should also complete the online application for the Project Repair program.
Please let us know about repairs completed through Project Repair by completing a reporting form.
Gift cards for repair workshops can be a great present for new homeowners, home repair enthusiasts, and anyone who, due to life changes, is responsible for the maintenance needs of a home. Print out our order form and send it to HRRC with your payment.
MAY
Repairing Switches & Outlets
Monday, May 6th, 7 – 9 pm
Instructor: Jim Cline, retired electrician
Come and learn how to install basic single pole switches and outlets, and how to troubleshoot problems when they don't function as they should.
Gutters & Downspouts
Tuesday, May 7th, 7 – 9 pm
Instructor: Chris Kamis, Absolute Roofing
Learn how to connect and hang gutters at the proper pitch. We'll discuss sectional vs. seamless gutters, metal gauges, and how to replace rotted fascia boards and rafter ends.
Three-Way Switches & GFCI Outlets
Monday, May 13th, 7 – 9 pm
Instructor: Jim Cline, retired electrician
3-way switches are a common source of irritation when they don't work. Learn how to troubleshoot problems in the wires running between your light and the two switches controlling it. You'll also learn how to install ground-fault circuit interrupter outlets that are now required in many locations in your house and garage.
Running a New Circuit
Monday, May 20th, 7 – 9 pm
Instructor: Jim Cline, retired electrician
We'll talk about how to think creatively about where to run new wires to power additional outlets, and show you tricks for running wires through finished walls.
JUNE
Installing a Ceiling Fan
Monday, June 3rd, 7 – 9 pm
Instructor: Anthony Malcolm, Green Integrated Services, Inc.
You'll learn how to mount a ceiling fan and wire it into an existing circuit. We'll also talk about how to run wires from the fan to a wall switch and/or service panel, if that wiring is not already present.
Interior & Exterior Handrails
Monday, June 10th, 7 – 9 pm
Instructor: Bill Audrick, Renew Contracting
You'll learn how to construct and install wooden railings on an interior stairway or along an exterior porch and steps.
Porch Flooring Replacement
Monday, June 17th, 7 – 9 pm
Instructor: John Sobotincic, woodworker/handyman
You'll learn how to install new tongue-and-groove flooring — just a few pieces or an entire porch deck.
Exterior Painting
Monday, June 24th, 7 – 9 pm
Instructor: Anthony Sanders, Anthony's Professional Painting
Learn how to select the best paint, prepare the surface, and apply paint for an attractive and long-lasting result. We'll also talk about controlling lead-based chips and paint dust.
Check back for future workshops…