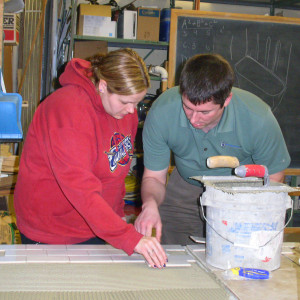 Project Repair is our general home repair education program. It offers many services that can help homeowners complete home repairs, themselves or contracted, and promotes sustainable home renovation wherever possible.
Our repair classes & workshops are available to residents of all communities, regardless of income. Three types of sessions are offered:
HouseMender University (HMU) presentations are informational presentations on topics such as material options, how a repair should be done, contracting various types of repairs, and reducing energy use. HMU presentations are free and held throughout the region.
Repair classes give attendees an opportunity to get in-depth information from a professional, ask questions about their specific situation, and see demonstrations of new products, tools, and techniques.
"Hands-on" repair workshops provide a chance for participants to learn and practice repair skills under the supervision of an instructor. Class size is kept small to maximize learning. 
Class fees start at $10 for Cleveland Heights residents and $15 for non-residents; hands-on workshops also have a materials fee.  (Scholarships are available to Cleveland Heights residents with low incomes.) Fees may be paid by cash, check, or credit card.
Classes are held year-round, and most are held in our Teaching Center at 2520 Noble Road in Cleveland Heights. Spaces are limited, and reservations are a must! To reserve a seat, email pwetherill@hrrc-ch.org or call (216) 381-6100, ext. 16.  Please provide an email address so that we can contact you to finalize your reservation.
You can apply for Project Repair by filling out the online application. Participants are eligible for a discount card, honored by several local merchants for discounts on tools and materials.
Gift cards for repair workshops can be purchased by printing out our order form and sending it to HRRC with your payment.