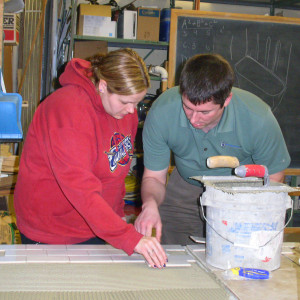 Project Repair is a program of Home Repair Resource Center. It offers many services that can help homeowners complete home repairs, whether do-self or contracted, and promotes sustainable home renovation wherever possible.
Our "hands-on" workshops are available to residents of all communities, regardless of income. Participants learn and practice repair skills under the supervision of an instructor. Classes are held year-round, and most are held in our Teaching Center at 2520 Noble Road in Cleveland Heights.
Workshop attendees pay a modest materials fee: $10 for Cleveland Heights residents and $15 for non-residents. (Scholarships are available to Cleveland Heights residents with low incomes.) Fees may be paid by cash or check.
Classes provide hands-on practice and are kept small to maximize learning. Spaces are limited, and reservations are a must! To reserve a spot in a workshop, call (216) 381-6100, ext. 16, or email workshops@hrrc-ch.org. Please include a daytime phone number so that we can contact you to finalize your reservation.
Project Repair's Tool Loan is available to Cleveland Heights owner/occupants. For a modest fee, income-eligible homeowners can borrow needed equipment to complete repairs to their homes.
You can apply for Project Repair by filling out the online application. Participants are eligible for a discount card, honored by several local merchants for discounts on tools and materials.
Please let us know about repairs completed through Project Repair by completing a reporting form.
Gift cards for repair workshops can be purchased by printing out our order form and sending it to HRRC with your payment.