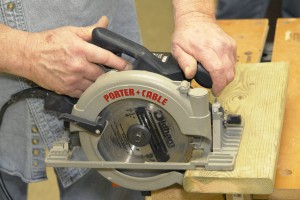 HRRC's Tool Loan offers a variety of hand and power tools to help Cleveland Heights homeowners complete repairs to their homes (list of available tools).
Please let us know about repairs completed through our Tool Loan by completing a reporting form.
RULES AND RESPONSIBILITIES OF TOOL BORROWERS:
So that all participants may benefit from the tool loan program, the following rules are necessary:
1. The tools are for the use of income-eligible Cleveland Heights homeowner/occupants. You may use the tools only on your own property; they are not intended to be used as a means of earning a living.
2. All loans are for a three-day period. If you need to keep a tool longer, you MUST call the office to make arrangements to do so.
3. If a tool you borrow is broken or damaged through misuse or neglect, or if it is lost while in your possession, you will have to pay for its repair or replacement. (Please note that you are responsible for asking any questions about the safe and proper operation of the tool being borrowed — so, if you decide to use a tool in a way that was not discussed when you first borrowed it, we suggest you call first to make sure the tool is appropriate for the new project.)
4. All tools are to be returned ON TIME during regular tool loan hours. If the tool is not returned at the time agreed upon, your deposit will be forfeited and a late fee will be charged.
5. ALL TOOLS MUST BE CLEANED BEFORE THEY ARE RETURNED. If a tool is not returned clean, your deposit will be forfeited.
HOW TO BORROW TOOLS:
1. CALL FIRST TO RESERVE YOUR TOOLS.
Advance reservations are required. You can reserve tools at any time by email at tools@hrrc-ch.org or by phone at (216) 381-6100, ext. 18. We'll get back to you to confirm your reservation.
2. PICK UP AND RETURN TOOLS DURING OUR TOOL LOAN HOURS:
Monday through Friday, 9 am – 5 pm

Tools are loaned for a maximum of three days. Unless otherwise indicated, HRRC does not supply saw blades, sand paper or discs, drill bits, or other accessories.
3. ARRANGE YOUR OWN TRANSPORTATION FOR THE TOOLS YOU BORROW.
We cannot bring tools to you or pick them up from your home. We have straps to secure ladders on top of your car (bring a blanket to protect the paint job), and ramps to help load heavier tools. If picking up or returning a tool you cannot handle by yourself, plan to bring another person to help you.
COST OF BORROWING TOOLS:
A DEPOSIT IN CASH OR BY CREDIT CARD must be left when a tool is borrowed. The amount varies with the value and/or type of tool borrowed.
A FEE is charged for each tool or tool kit borrowed, whether or not the tool is used. The fee can be paid out of the deposit when the tool is returned, so long as it is on time and in good condition. Tool fees are used to keep tools in good repair.
There are two tiers of fees, depending on income. Current charges for tool fees and deposits (subject to change without notice):
POWER TOOLS, LADDERS & ACCESSORIES
DEPOSIT
LMI FEE
AMI FEE
100′ electric sewer snake
$ 75.00
$ 50.00
$ 70.00
50′ electric sewer snake
$ 65.00
$ 35.00
$ 50.00
25′ electric sink snake
$ 35.00
$ 20.00
$ 30.00
40′ extension ladder
$ 40.00
$ 20.00
$ 35.00
32′/28′/20′/16′ extension ladder
$ 35.00
$ 15.00
$ 25.00
aluminum stand-off     (ladder stabilizer)
$ 20.00
$ 10.00
$ 12.00
ladder jacks & scaffold plank
$ 35.00
$ 15.00
$ 25.00
roof ladder
$ 35.00
$ 10.00
$ 20.00
6″/8'/10'/12′ step ladder
$ 35.00
$ 10.00
$ 20.00
air compressor and nail gun (roofing or framing) with heavy-duty extension cord
$ 90.00
$ 40.00
$ 50.00
nail gun only
$ 30.00
$ 15.00
$ 20.00
mini-compressor and brad nailer
$ 50.00
$ 20.00
$ 30.00
angle grinder
$ 30.00
$ 15.00
$ 20.00
sawzall
$ 25.00
$ 10.00
$ 15.00
electric chain saw
$ 40.00
$ 25.00
$ 35.00
circular saw (5-1/2″ or
7-1/4″)
$ 25.00
$ 10.00
$ 15.00
portable table saw
$ 40.00
$ 25.00
$ 35.00
power miter saw
$ 30.00
$ 15.00
$ 25.00
compound miter saw
$ 40.00
$ 25.00
$ 35.00
wet saw (for ceramic tile)
$ 45.00
$ 25.00
$ 35.00
electric drill (1/2″ or 3/8″, corded or cordless)
$ 30.00
$ 15.00
$ 20.00
1/2″ hammer drill
$ 30.00
$ 15.00
$ 25.00
drywall screw gun
$ 30.00
$ 15.00
$ 25.00
all electric hand sanders (palm sander, belt sander, etc.)
$ 25.00
$ 10.00
$ 15.00
drywall power sander
(includes one 80-grit & one 100-grit disc)
$ 75.00
$ 40.00
$ 50.00
additional discs for power drywall sander
$ 8.00
$ 8.00
Squar Buff® floor sander with heavy-duty extension cord
$ 65.00
$ 40.00
$ 50.00
shop vac (dry)
$ 35.00
$ 25.00
$ 30.00
shop vac (wet)
$ 35.00
$ 20.00
$ 25.00
HEPA vac
$ 40.00
$ 30.00
$ 35.00
airless paint sprayer with heavy-duty extension cord (for exterior painting)
$ 90.00
$ 40.00
$ 50.00
pressure washer
$ 60.00
$ 35.00
$ 45.00
most other power tools
$ 25.00
$ 10.00
$ 15.00
extension cords
$ 10.00
$ 3.00
$ 5.00
| | | | |
| --- | --- | --- | --- |
| HAND TOOLS | DEPOSIT | LMI FEE | AMI FEE |
| individual hand tools (unless listed below) | $ 15.00 | $ 5.00 | $ 8.00 |
| mule & digging bar | $ 20.00 | $ 10.00 | $ 15.00 |
| flooring nailer (manual) | $ 20.00 | $ 10.00 | $ 15.00 |
| TOOL KITS | | | |
| carpentry tool kit: utility knife, chalk line, measuring tape, hammer, stud finder | $ 20.00 | $ 8.00 | $ 10.00 |
| electrical tool kit: Philips screwdriver, straight-blade screwdriver, needle-nose pliers, linesman's pliers, wire cutter/stripper, plug-in tester, utility knife | $ 20.00 | $ 10.00 | $ 55.00 |
| ceramic tile tool kit: tile nippers, hand tile cutter, chalk line, grout squeege, rubber mallet, rubbing/smoothing stone, sponge | $ 25.00 | $ 14.00 | $ 19.00 |
| masonry tool kit: up to 3 tuckpointing trowels, masonry trowel, hawk, mortar bag | $ 20.00 | $ 10.00 | $ 15.00 |
| drywall tool kit: 6″/8″/10″ taping blades, utility knife, measuring tape, chalk line or drywall square, mud pan, corner blade, surform plane | $ 25.00 | $ 16.00 | $ 20.00 |
| concrete tool kit: hoe, mortar barrow, screed, wood float, metal float, margin trowel, center trowel | $ 25.00 | $ 14.00 | $ 20.00 |