ASPHALT TOOLS
rake
mattock
mixing paddle for 1/2″ drill
pick
pressure washer
roller
sealer squeegee
shovel
tamper
wheelbarrow
CARPENTRY TOOLS (NON-POWER)
back saw
bar clamp
bevel gauge
C-clamp
carpenter's hammer
24″ carpenter's square
chalk line
12″ combination square
come along
coping saw
fence post level
flooring nailer
flooring scraper
hand hammer tacker
hand saw
2 lb. heavy hammer
hydraulic jack
Jacobson™ clamp
keyhole saw
levels (various lengths)
linoleum cutter
lock set hole saw kit
miter box
miter clamp
nail claw (cat's paw)
needle-nose pliers
pipe clamp
plumb bob
pole jack (house jack)
ripping bar
sawhorses
screwdrivers
sledge hammers (various weights)
speed squares, large & small
spring clamp
staple gun
straight-edge cutting guide
stud finder
stud & joist spacer
Surform™ plane (rasp)
tape measures
10″ torpedo level
utility knife
12″ utility square
Wonder Bar™
wood chisel
wood saw
2-by wrench
portable workbench
ladders & jacks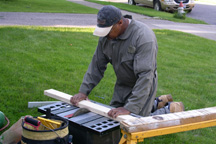 CARPENTRY POWER TOOLS AND ACCESSORIES
air compressor & framing nailer
mini-air compressor & brad nailer
angle drill
belt sander
7-1/4″ circular saw
cordless drill
1/2″ electric drill
3/8″ electric drill
drywall screw gun
extension cords
1/2″ hammer drill
jig saw
compound miter saw
power miter saw
portable table saw
palm sander
RotoZip
router
Sawzall™ reciprocating saw
NOTE: Electrical tools are not loaned with saw blades drill bits, sanding belts or discs, etc.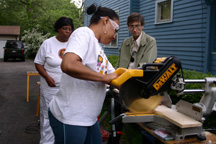 CAULKING AND INSULATION TOOLS
carpenter's hammer
caulking gun
screwdrivers
staple gun
tin snips
utility knife
CERAMIC TILE TOOLS
adhesive spreader
adhesive trowel
carbide-rod hacksaw
carbide scoring tool
24″ carpenter's square
chalk line
contour gauge
grout float
grout saw
grout sponge
levels (various lengths)
rubber mallet
smoothing stone
tape measures
tile cutters
tile nippers
wet saw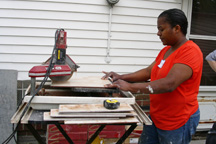 CONCRETE AND MASONRY TOOLS
angle grinder
lg. & sm. bolt cutters
brick hod
cold chisel
control joint trowel
darby
digging bar
edging trowel
engineer's hammer
flat trowel
garden hose
1/2' hammer drill
2 lb. heavy hammer
mixing hoe
4′ level
margin trowel
mason's brush
mason's chisel
mason's hammer
mason's line
lg. & sm. mason's trowel
mortar hawk
mortar tub
mule (slab lifter)
pry bar
rake
flat bottom shovel
round-bottom shovel
65″ screed
sledge hammers (various weights)
tampers
tuckpointing trowels
wheelbarrow
wire brush
wood & metal trowels
DEMOLITION TOOLS
carpenter's hammer
cold chisel
crow bar
engineer's hammer
flooring chisel
full face shield
2 lb. heavy hammer
HEPA-vac & carpet wand attachment
ice chipper
nail claw (cat's paw)
pry bar
respirators
ripping bar
Sawzall™ reciprocating saw
shop vac (wet/dry)
flat-bottom shovel
round-bottom shovel
sledge hammers (various weights)
utility knife
wheelbarrow
Wonder Bar™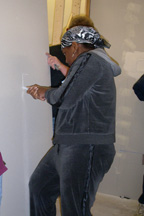 DRYWALL AND PLASTER TOOLS
carbide scoring tool
carpenter's hammer
24″ carpenters square
chalk line
compound pan
cordless drill
corner trowel
drywall power sander
drywall sanding pole
drywall saw
drywall sheet lifter
drywall square
hand sander
mixing paddle for 1/2″ drill
screw gun
stippling brush (round)
stud finder
Surform™ plane (rasp)
tape measures
taping blades (various sizes)
tin snips
utility knife
NOTE: Electric sanders are not loaned to sand drywall or taped joints, or to smooth plaster walls.
ELECTRIC TOOLS
cable ripper
carpenter's hammer
circuit tester
conduit benders: 1/2″ & 3/4″
electric fish tape
fuse puller
hack saw
lineman's pliers
multimeter
needle-nose pliers
Sawzall™ reciprocating saw
screwdrivers
side cutters
wire strippers
drywall & carpentry tools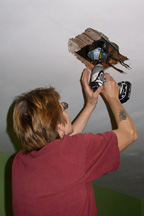 GARDEN AND YARD TOOLS
single-bit ax
bow saw (pruning saw)
electric chain saw
long & short cultivator forks
dandelion fork
digging bar
extension cords
garden fork
garden hose
garden rake
grub hoe
2 lb. heavy hammer
hand hedge shears
garden hoe
ice chipper
lawn edger
lawn roller
leaf rake
lopping pruners
mattock
pick
pole saw
hand post-hole digger
pruning shears
flat-bottom shovel
round-bottom shovel
trenching shovel
sledge hammers (various weights)
lawn spreader
tampers
thatching rake
weed whip
wheelbarrow
NOTE: Post hole digger and digging bar must be used together.
GLAZING TOOLS
burn-off knife (heavy-duty scraper)
carpenter's hammer
heat gun & heads
putty knife
screwdrivers
Window Zipper™
wood chisel
LADDERS
extension ladders: 16′. 20′, 28′, 32′, and 40′
step ladders: 6′, 8′, 10′ and 12′
2-step wooden step ladder
roof ladder: 12″
aluminum stand-off (ladder stabilizer)
aluminum scaffold plank
ladder jacks, pair
MISCELLANEOUS TOOLS
appliance cart
4-wheel cart
2-wheel hand truck
lg. & sm. bolt cutters
24″ carpenter's square
carpet knife
cold chisel
come along (ratchet pulley)
contour gauge
crow bar
extension cords
flooring chisel
full face shield
1/2″ hammer drill
hand grease gun
ball pien hammer
2 lb. heavy hammer
hydraulic jack
pole jack (house jack)
laminate roller
laminate shears
mason's line
plastic cutter
pop rivet gun
portable heater
propane torch heads
pry bar
respirators
safety glasses
shop vac (wet/dry)
sledge hammers (various weights)
slip joint pliers
splining tool
electric sump pump
utility knife
12″ utility square
vise-grip pliers
splitting wedge
Window Zipper™
portable workbench
bench grinder & buffing wheel (office use only)
PAINTING AND LEAD CONTROL TOOLS
airless paint sprayer (for latex paint only)
burn-off knife (heavy-duty scraper)
caulking guns
8′ extension pole
heat gun & heads
paint roller
paint roller tray
paint scrapers
palm sander
pressure washer
HEPA-vac & carpet wand attachment
putty knife
respirators
shingle paint brush
wire brush
ladders, jacks & scaffold plank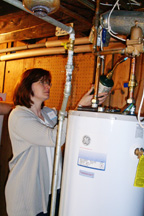 PLUMBING TOOLS
adjustable wrench, 8″, 10″
basin wrench
carpenter's hammer
channel-lock pliers (various sizes)
drum cover wrench
faucet socket set
fitting brush
flaring tool
hack saw
handle puller
pipe cleaner
4-in-1 pipe cleaning tool
pipe wrenches (various sizes)
plastic cutter
propane torch heads & striker
screwdrivers
seat dresser
seat wrench
small hand snake
25′ electric sink snake (for sink & tub drain lines)
50′ & 100′ electric sewer snakes (for storm & sanitary sewers)
slip join pliers (Channel lock)
strainer basket wrench
tape measures
toilet auger
tubing cutter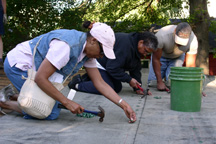 ROOF AND GUTTER TOOLS
air compressor & roofing nailer
carpenter's hammer
caulking gun
chalk line
cordless drill
1/2″ electric drill
3/8″ electric drill
garden hose
hack saw
hand hammer tacker
nail pick-up magnet
pop rivet gun
12′ roof ladder
roof stripping tool
RotoZip™
Sawzall™ reciprocating saw
shingler's hammer
tape measures
tin snips
utility knife
Wonder Bar™
ladders, jacks & scaffold plank
WALLPAPERING TOOLS
razor blade holder
24″ carpenter's square
levels (various lengths)
Paper Tiger™
paste brush
prepasted paper pan
seam roller
smoothing brush
straightedge
WOOD REFINISHING TOOLS
belt sander
heat gun & heads
palm sander
putty knife
random orbital sander
Squar Buff™ floor sander
shop vac