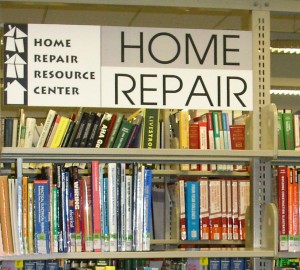 Residents from all communities are welcome to use our Resource Library, located right in our office facility at 2520 Noble Road. The library contains repair handouts and videotapes, contractor evaluations, and suggested specifications for fourteen major repairs to help homeowners obtain comparable estimates and get better quality work. (We encourage residents to share their experience in getting repair work done by completing one of our contractor evaluation forms.) Library hours are 9 a.m. till 7 p.m., Monday through Friday.
Through Home Repair Resource Center's partnership with the Heights Libraries, many of our handouts can be accessed online. Videos produced by HRRC and other resources are also available in HRRC's Resource Area (photo above) on the second floor of the Lee Road Branch, 2345 Lee Road, Cleveland Heights.
Please let us know about repairs completed through use of our Resource Library by completing a reporting form.