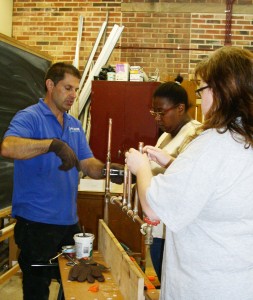 Home Repair Resource Center provides opportunities for volunteers — current or retired professionals and tradespeople, or others with expertise in repair specialties — to teach home repair classes for homeowners.
The classes are provided through HRRC's Project Repair program and Home How-To program, both of which offer "hands-on" instruction in basic home repairs. By practicing with appropriate tools and techniques, workshop participants gain knowledge, skills, and confidence in their ability to tackle the project.
Most classes will be held in HRRC's Teaching Center, which has ample space for demonstrations and hand-on practice. The instructor will work with HRRC to detail the skills to be taught and identify handouts and tools to be provided by HRRC. The instructor will purchase any materials needed and will then be reimbursed for the cost.
This cooperative relationship can strengthen the community — HRRC will be able to expand the classes we offer to community residents through our Project Repair program, and the instructor will benefit from increased exposure to potential customers and/or an opportunity to give back to the community. We invite any potential instructors to arrange a time to tour our facilities; call (216) 381-6100, ext 16 or email rstager@hrrc-ch.org.