Homeowners age 62+ can get personalized assistance in assessing their repair needs and contracting repairs through our Senior Repair Program. Participants will benefit from:
90-minute home inspections to assess and prioritize repair needs and "aging in place" issues
help with reviewing contractor estimates
inspection of completed work
special workshops for seniors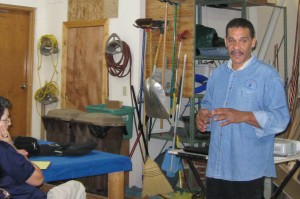 Participation fee: Residents of Cleveland Heights, University Heights, Shaker Heights, South Euclid are eligible to receive a 90-minute in-home repair consultation with HRRC's Senior Repair Specialist for a nominal fee.  Residents of other communities are eligible for a 60-minute consultation here in our office for for a nominal fee. To register for a class or home inspection, call Wesley Walker at (216) 381-6100, ext. 22 or email wwalker@hrrc-ch.org.
The Senior Repair Program will not only focus on home repairs; homeowners will be advised on how to plan for changing physical needs. Thoughtful planning on adapting the physical environment can often allow seniors to live at home longer–safely and independently.
The addition of a Senior Repair Specialist to HRRC's staff has been made possible through grants from the McGregor Foundation and the United Black Fund.
Please let us know about repairs completed through our Senior Repair Program by completing a reporting form.